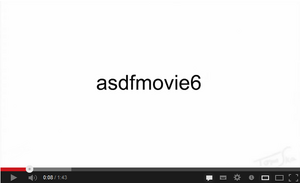 asdfmovie6 was uploaded on Febuary 6, 2013.
Plot
Before the intro, a man says to another man that he's going to punch his face in the face. He does so.
A teacher welcomes people to "standing up school", but one falls over and the teacher tells him he fails.
A man plays a trumpet and a officer asks if he has a licence and the man with the trumpet tells him he'll never take him alive then uses his trumpet to kill himself.
A person and a door play a knock-knock joke. The door opens and smashes him.
A guy tells another guy that carrots are good for his eyesight. He jams carrots into his eyes and dramatically says that he lied to him.
Three people sing "Hello", but the FOURTH one steps on the Mine Turtle and he says "Hello!" and four say "Oh no". Then they all blow up.
A woman sees a puppy and her husband tells him that he has a knife. The puppy lies and says that he doesn't.
A person wearing a top hat and slotted glasses says "Everybody do the Flop!" and everyone flops.
A off-screen person talks to a burger, and the burger says "I used to be a cow". The person then exclaims.
The title says "And now the funniest thing you've ever seen... From really far away", and it shows one person hitting another person who blows up, and the other person says "Apples!". This is all far away.
The pony from Asdfmovie5 flies through the sky and the military shoot it down.
A person looks at his watch and then says that he has no idea how to breathe.
A little girl draws a bear on a real bear, who swallows the girl whole.
A person tells another person to not think about cats. He does and he pukes out a ton of cats.
A mother says "Here comes the airplane!" The son gasps softly and an airplane crashes into their house.
In the middle of the credits, it shows a guy choking and another guy asking for a doctor. One appears, and he calls the doctor a nerd. He high-fives with the choking guy.
Internal Links
External Links
Videos

Animations
War • Chaos Relay • Snowballs
Skits
The Confession • Banned University of Lincoln Advert • Another Banned University of Lincoln Advert • Coming Out • Ritalin'd • Bad Singer • Musical Suicide • Bite Me • First Date
Eddsworld
Collabs
Bendee 7 (2004) • Zombeh Attack (2005) • Behind the Scenes (2005) • Eddsworld Halloween Short (2005) • Eddsworld Christmas Special '05 (2005) • Zombeh Attack 2 (2006) • Tom's Tales of Awesome (2006) • Eddsworld 20k (2006) • Zombeh Nation (2006) • Hello Hellhole (2007) • Zombeh Attack 3 (2007) • Boris Grishenko Trailer (2007) • Ruined (2007) • Eddsworld Halloween Special 2007 (2007) • Zanta Claws (2007) • Tom's Tales of Brilliance (2008) • Spares (2008) • Moving Targets (2008) • 25ft Under the Seat (2008) • Matt Sucks (2008) • Zanta Claws II (2008) • Art is Serious (2008) • MovieMakers (2009) • Life in Portal: Madness (2009) • Climate Change (2009) • Xmas Day (2009) • WTFuture (2010) • 2 Canadians on a plane (2010) • Dental Appointment (2010) • Hammer & Fail (Part 1, Rival Builders)(2010) • Eddsworld Biomovies Competition (2010) • Zanta Claws 3 (2010) • Eddsworld - Intro Song (2011) • Hammer & Fail (Part 2, Rooftop Rumble)(2011) • Fan Service (2011) • Rock Bottom (2012)
asdfmovie
Asdfmovie (2008) • Asdfmovie2 (2010) • Asdfmovie2: deleted scenes (2010) • Marmite is terrible (2010) • Asdfmovie3 (2010) • Asdfmovie4 (2011) • I Like Trains (Song) (2011) • Asdfmovie5 Trailer (2012) • Asdfmovie5 (2012) • Mine Turtle (Song) (2012) • Asdfmovie6 (2013) • Asdfmovie7 (2013) • Asdfmovie: deleted scenes (2013) • Everybody Do The Flop (Song) (2014) • Asdfmovie8 (2014) • Asdfmovie9 (2015) • Asdfmovie10 (2017) • The Muffin Song (2018) • Asdfmovie11 (2018)
Eddsworld: Legacy
Space Face (2012) • Date Night (2012) • The Snogre (2013) • Tom's Tales of Crazy (2013) • Hide and Seek (2013) • Fun Dead (2014) • PowerEdd (2014) • Mirror Mirror (2015) • Trick or Threat (2015) • Christmas Eddventure (2015) • Saloonatics (2016) • The End (2016)
Crash Zoom
test • test
TomSka's Day Out
test • test
Last Week
test • test